Another Friday is here, y'all! And this mama is looking forward to the weekend. We have some visitors stopping by Saturday afternoon, and Sunday, it's supposed to be in the 60s. After traipsing around the big city in the 30-ish degrees and crazy winds last night, I am SO OVER winter weather! Why must it be windy? The wind is whipping up leaves and dirt outside as I type this, and it's vicious! Max and I have errands to run today, and every time I tell him we have to go out in the wind, he says, "Me haaayyy!" ("my hair" in Max speak). Just like his mama, his hair gets a good tousling in the wind. We don't care for it.
Anywho, I thought I'd share a few things I did this week: some are exciting and others underwhelming. Such is the life of a stay-at-home mom.
1 || I made aprons for my kids out of dish towels.
Yes, you read that right, ladies. A dish towel, some twill tape (I used rug binding because it's all I could find in a pinch, but some thinner twill tape is more desirable), and 2 stitches (just 2!) turned these cute dish towels I found at Michaels into aprons. Even the most novice seamstress can pull this off. I saw the
tutorial
months ago on Miranda's blog,
One Little Minute
(she is such a talented seamstress and an inspirational lady), and I knew I had to make them.
How cute?!?!
I had to bribe him with Teddy Grahams to be my model. He still prefers my floral apron. Probably need to hide it.
2 || I left my clean sheets in the dryer for 4 days. I changed our sheets on Monday. I washed the dirty ones on Tuesday. They're still in the dryer as I type, likely wrinkled beyond recognition. Whatevs, they're clean.
3 || I picked a tick out of the dog's ear fur. Ugh, ticks. Why are they out already? I wasn't expecting to see one, but Kenny's ear was flipped back and I saw a dark black fleck in his fur, so I investigated. I thought it was just some tree bark or a dead leaf or something, but upon further inspection, I discovered it was a nasty tick. It was still crawling around in his fur and hadn't attached to him yet, so I was able to get him off (through no help from Kenny, of course. He made the task quite difficult because he's a spaz). Kenny takes oral flea and tick meds, and he's been bitten by ticks in the past (finding their engorged bodies stuck in his skin is quite frightening), but I think I need to be more vigilant about checking him when he comes inside. Our yard backs up to the woods and we have lots of deer visitors, so it's better safe than sorry!
4 || I stayed up well past my bedtime each night. In a perfect world, I'd head up to bed around 10:30 to read and be ready to pass out by 11. But this week I haven't made it to bed before midnight each night. Blame it on perusing the interwebs and watching HGTV with Victor. As a result of staying up late, I take naps during Max's nap, which means I'm not tired for bed at 10:30. It's a vicious cycle...one I hope to break next week.
5 || I hung out with Carrie Underwood.
Ok, we didn't actually "hang out," but she sang for me...and thousands of other people last night. I went with a group of my old teacher friends to her concert in DC; it was my first "mommy's night out" in...forever. We had lots of fun and Carrie was amazing! That girl is so talented and adorable (can we talk about her cute new hair cut?! I've decided I want "Carrie Underwood hair" now). She made me cry a few times (singing Dolly's "I Will Always Love You" and showing a slideshow of pics of her with her hubby and baby during
"What I Never Knew I Always Wanted"
), and I didn't bring tissues (pregnant woman mistake...I should know by now that I could cry at the drop of a hat with all these hormones). Her set was amazing, as well. I was kind of fascinated by the logistics behind it all. Please enjoy these blurry pics from my phone.
Get it, girl!
Today I plan to watch "Fuller House" on Netflix during naptime until I pass out since I was up until 1:30 AM last night and Max woke me up at 7. It's okay, though, because I missed him. Have a happy weekend, everyone...can you believe it's the last weekend in February?!?!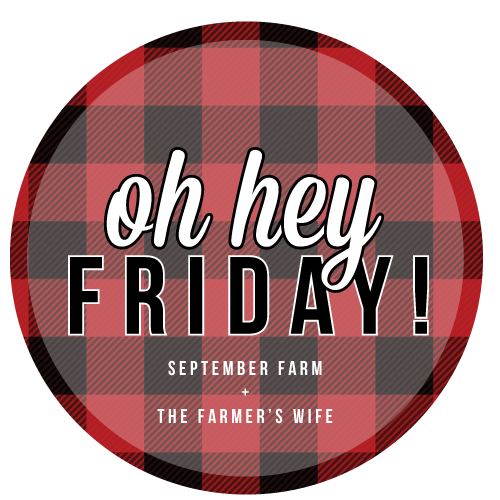 Linking up with