What a week! I feel like I say this every Friday. If you read
yesterday's post
, you'll have a better idea of why this week has been so crazy for us. I still haven't unpacked my clean clothes from our beach trip, and there's a pile of sand on the floor in our bedroom that was stowed away in a pair of Max's shorts (must sweep that up). I was supposed to head to Ohio on Sunday with Louisa to help my mom after her foot surgery next week, but since Louisa is sick, we're staying home and my sister will do the bulk of the post-op help with my mom. We're bummed that we can't help out, but we're also thankful to be able to rest at home.
I'm feeling a bit overwhelmed as I get back into the swing of things here at home. I have a lot of stuff to do, two kids that make getting things done difficult, and a strong desire to curl up with my book or some On Demand TV shows (I blame the gloomy/rainy weather we've had all week). So, instead of getting to work crossing things off my to-do list, I've compiled this list of Things that Need to Happen ASAP (with little/no intervention from me).
1 | My entire family gets healthy. I feel like the kids have had runny noses and intermittent coughs for months now. I was walloped with a fever, body aches, and glandular pain while we were at the beach, which then turned into swollen splotchy tonsils. I'm better now, but Victor is still feeling a bit under the weather. Louisa is obviously working on getting better, too. I think I'm going to empty an entire can of Lysol on my house today, germs be damned!
2 | Max goes back to putting himself to sleep peacefully. You guys. Bedtime is AWFUL these days. It all started the Wednesday night before we went to the beach. Max would freak out when I would leave his room after his bedtime stories and back rubs. A mild whimper/protest is normal for him, but I can usually give him "10 more rubs" and he'll calmly whisper "Night, Mom" after I kiss him goodnight and a few minutes after I leave, he's out. Not anymore. He quite literally hyperventilates if I leave his room before he's fallen asleep. Same thing if he wakes up in the middle of the night. He bolts off his bed and screams at the top of his lungs like he's being tortured, "Where me mom gooooo??!!! Where me dad gooooo?!?!!" Last night I went in to him at 4:30 AM and scooped him up to comfort him. His entire body was shaking and his heart was racing. I have no idea what's brought this new behavior on. Nothing especially traumatic has happened while he's been asleep in the past two weeks. The only way we've been able to get him to fall asleep initially is to rock him or rub his back until he's breathing heavily. If he wakes in the middle of the night, Victor has had to sleep in his bed with him (I can't do it because if I have to leave to feed Louisa, all hell will break loose again). We've tried all of our tricks from sleep training to no avail. We've also tried tough love and punishment. Nothing is working. Send help.

3 | My entire house gets cleaned. And organized. And decorated. Lately I feel like cleaning is futile. It only lasts about 3 seconds before it's destroyed or dirtied again. I love having a clean kitchen. But then I don't want to do any cooking for fear of messing it up again. We also need to do some serious organizing in our sunroom/office (our new file cabinet arrived today and needs to be assembled). A lot of the office stuff is cluttering the kitchen right now, but once the office is set up, things should be more organized. We also could stand to do a bit more decorating. I need to find art/frame photos for our upstairs hallway, and our guest rooms could use some more decor, as well. Oh, and I still haven't organized my closet. So if that could all just miraculously happen, that'd be great.
4 | I have time to watch daytime TV. I got to watch a lot of TV while Louisa and I were in the hospital. TV that wasn't broadcast on Nickelodeon or the Disney Channel. We watched The Today Show (I used to watch that every day when Max was a baby), Rachael Ray, The Price is Right...it was awesome! I couldn't watch The View because it was "rating blocked" by the pediatric ward, nor could I watch RHOC or This Is Us in the evening for the same reason, but I was digging the uninterrupted TV time. I love watching TV. It's terrible.
5 | My Costco groceries miraculously show up at my door. This is probably the only thing on this list that will actually happen. I've created a cart on Instacart and I'm about to checkout. Although I'm feeling some guilt because I could go tomorrow. But I don't want to take children. And Costco is insane on the weekends. And I can't go today because I have to wait around for the HVAC guy. The dilemma!
I hope you all had a wonderful week and your weekend is even better! I will get to posting about our beach vacation early next week!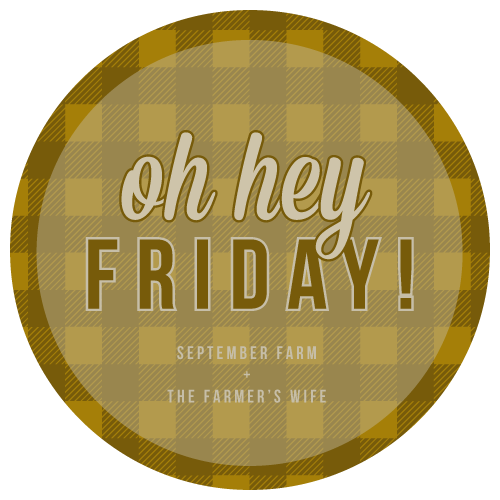 Linking up with
Amy at
The Farmer's Wife