I somehow made it to the morning. Both of my kids decided mama didn't need no stinkin' sleep last night. Louisa just wanted to be nursed more frequently than the last two nights (I wouldn't mind a return to her 6-hour stretches). Max, on the other hand, woke about 5-7 times in a two hour period, crying and then not falling asleep well (hence more wake-ups). Not sure what his deal was as he's slept through the night most nights this week, but Victor must have had the magic touch because after he went in there, Max didn't wake again.
Now I'm sitting here enjoying my once-daily pumping session and getting this post out to you for my first
Oh hey, Friday!
in a while! Lucky you! I don't have much of a theme for today's post. It's just a random "odds and ends" post.
1 | Have you heard of the term "re-entry" in reference to life with kids? It's the period of time after being away from home when you get back into the swing of things and return to your routines and some form of normalcy. After being at the beach last week, I can tell you that this session of "re-entry" has been a doozy. I went crazy and wanted to do all the vacation laundry last Saturday and Sunday (I think I did 6 loads of laundry in a day and a half; we had to bring our own linens). However, my bag of clothes I didn't wear at the beach is still sitting in my room, waiting to be put away (and likely full of wrinkles and sand). We're working on getting Max's nap/sleep schedule back on track. And I'm trying to re-learn how to plan ahead for meals. But hey, at least we're home! I'm such a homebody; everything about vacations makes me anxious!
2 | I'm getting my hair cut--AND colored--in a couple of weeks and I am SO EXCITED! I haven't gotten a hair cut since the Carrie Underwood chop earlier
this spring
, and I'm so ready for a change. I think I'll keep the same general style of haircut, though, with plans to grow it out. I'm really looking forward to getting my hair professionally colored, though. I'm so bored with my hair color, plus the grays are getting more numerous. I need to look on Pinterest for some color ideas. I'm going to stick with something in the brown family, though, Nothing too dramatic!
3 | I'm getting super excited for a trip to Ohio in a couple of weeks with the kids. I have a fun "Cousins Day" planned with my...you guessed it...cousins, and I anticipate it to be equal parts fun and awkward. Fun because my cousins are hilarious and know how to have a good time. Awkward because I'm the oldest/only one married/only one with kids so I'm in a different season of life than they are (my sister is the next oldest at 27, then the rest are college/high school age; I used to babysit them all). I also have plans with two of my college roommates/bridesmaids and their families while we're there. It'll be the first time the 3 of us (and their hubbies, who also went to college with us and are great friends) will be together with our kids (5 of them among us!). My heart is bursting with anticipation!!!
4 | After a month and a half of back-and-forth nonsense with our health insurance company, we finally have Louisa added to our plan! I won't even get into the nitty gritty of it all, but long story short, their communication practices are terrible and ineffective, we got different information from each person we talked to, and we were at risk of not having her covered since we were creeping up on the 60-day cut-off point. I would love to suggest ways for them to streamline the process (get all of your member service people on the same page regarding which form to use to add a dependent to your insurance; put on the form that you have 60 days to get your crap together; mention on the form which other documentation is needed so the applicant can send it in with the form; call/send correspondence when something is missing or still needed, etc.), but I doubt it'll do any good. Let me also mention that while we were waiting for the insurance company to get their stuff together, we kept getting bills from the pediatrician's office and frequent phone calls asking for her insurance info. For a gal who doesn't like not being in control, that whole experience did a number on my patience.
5 | I'd like to leave you with this photo of Max and his tios (aunt and uncle). They were practicing cutting their wedding cake, and Max was all too eager for them to get it over with.
And now zoomed in for a more dramatic effect:
Happy Friday, y'all!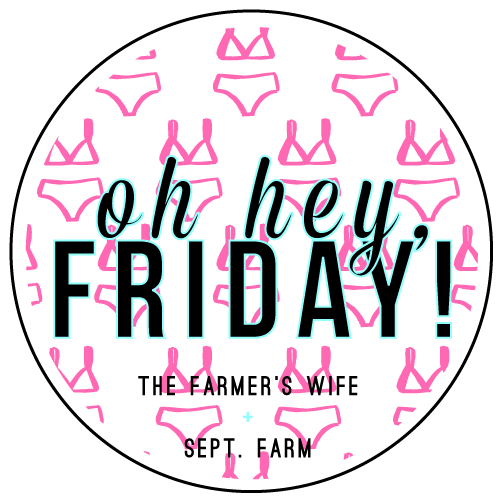 Linking up with