Happy Thursday everyone! I'm joining a new link-up today for Thoughts for Thursday! Here's what I'm thinking about:
|| I ordered
this dress
from New York & Company last week during their 80% off sale, and my oh my, what a steal! It's normally $89.95 and I got it for $17.99 (it's back up to $44.97). I bought it thinking I had a 50/50 chance of it looking decent on me. Thankfully, it arrived yesterday and I L.O.V.E. it! The color is vibrant and will be great for end of summer (once it's not 90 degrees everyday) and through fall and winter. I can't wait to wear it!
|| I really want to read Liane Moriarty's new book,
Truly Madly Guilty
, but the reviews weren't great. I've read most of her other books (
Big Little Lies
and
The Husband's Secret
being my favorites), and I'd like to give this one a try, too. Reese Witherspoon praised it on Instagram the other day, so perhaps it's not that bad??? Has anyone read it yet?
|| The image below had me LOLing. Any parent with young kids can relate. Naptime is sacred in our house, and we will be late to--or even miss--events so Max can get a good nap (we of course let the hosts know ahead of time that we'll be late or absent). A well-rested child is a happy child. Max is living proof.
|| Yesterday, I bought Chrissy Teigen's cookbook,
Cravings
, and simply flipping through it and skimming the goods has already reaffirmed my love for that woman. She is so funny and REAL! As for the book, it's amazing. So many delicious(ly indulgent) meals that I can't wait to try! The photos are beautifully hilarious, as well. Even if you don't want to buy it, you should at least flip through it while you're browsing at Target or Barnes & Noble. You won't be sorry.
|| I bought two rolls of
this contact paper
yesterday to line my shelves in my closet. It's not totally necessary to line them, and I'll probably regret my decision to do this about two shelves in, but I think it'll add some funky fun to my closet. We've got some high rain chances over the next several days, so perhaps I'll finally tackle my closet once and for all.
|| Now that it's nearly August, I've decided that I want to find some lightweight "summer bedding" for our bedroom. I love the bedding we currently have, but the comforter has remained on the bench at the foot of our bed for months and we just use sheets and a lightweight (ugly) blanket when we sleep. I want something lightweight and pretty for the summer months. My first inclination is to go for a quilt, but the hubs doesn't like quilts so I've been looking at chenille bedspreads. I've always loved the look of these...does that make me an old lady?
|| This photo also had me LOLing. It takes a patient man to be an Instagram Husband.
|| My final thought for this Thursday post is...I miss my sissy. We took her to Sakura for dinner last night, then Victor helped her load her car while I put Max to bed. She left early this morning and is more than halfway to our mom's house right now. Max was calling for her this morning, and Kenny, our dog, is extra mopey today without his dog-cousin Mya here to goof off with. It's a somber day here at Casa Little Blue Sailboat, and I think that feeling will continue for several days to come until we get used to what life was like without Auntie Ha here. We may never get used to it, though.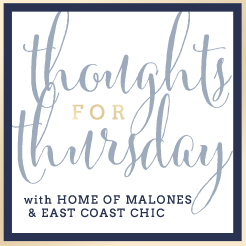 Linking up with
Natalie at East Coast Chic
Annie at Home of Malones