This week was a welcome reprieve from the craziness that was last week. Preparing for that party was quite intense...which is the main reason why there likely won't be another Fall Extravaganza at Casa Little Blue Sailboat. I enjoy gathering family and friends together, but that party prep was next-level crazy!
We've had a quiet week here this week, and it was glorious. Here's a peek at what we've been up to:
1 | We've been trying to nail down our family Halloween costumes. I'm not a huge Halloween fan, so something easy and not scary is always up my alley. Victor LOVES Halloween and frequently pushes for a couple/family theme (see
last year's photos
), so for a while we thought we were going to be Jake and the Neverland Pirates, which is Max's newest favorite TV show. However, I put off getting our costumes around until after the Fall Extravaganza party, so this week didn't leave much time. Plus Max kept changing his mind about what he wanted to be. First it was a shark after seeing a costume at Target, then it was "Pirate Jake," then it was a Ninja Turtle. We went to TJ Maxx on Monday to find some shoes for our family photo shoot and we happened across this airplane.
Awkward smile phase. How long will it last?
Max wore it all around the store and kept saying he wanted to be an airplane for Halloween, so I bought it. However, we've since changed our minds, and the airplane has been returned. I'll post a photo of our final costumes on Tuesday next week!
2 | On Tuesday evening, we had our family photoshoot with our good friend and talented photographer,
Dottie Millwater
. It was a bit chilly and windy, but the light was gorgeous and she got some great shots of our little family. I can't wait to see the final edited photos! We went to Dottie's house for dinner afterward, and Max played his his BFF, Dottie's daughter, Eleanor. Max loves playing with her toys...they're so different from what we have at our house!
Post-photoshoot selfie
3 | Max loves playing with Kenny, our dog...until he doesn't anymore and starts shouting "Go away, Tee! No Tee!" Don't ask me why he calls him "Tee." We can't break him of it. They had a sweet moment earlier this week, and it reminded me of a photo I took of the two of them when Max was Louisa's age two years ago. Enjoy the throwback, folks.
October 2016
October 2014
4 | Louisa has started taking an interest in sitting up lately, but she doesn't last very long. AND she finally rolled from front to back for the first time last night! Both my kids were late rollers, and I think the issue with Louisa is that she doesn't spend enough time on the floor since I'm always worried Max or the dog is going to pounce on her. We'll keep working on it! Max sat up unassisted for the first time on Halloween in 2014. Perhaps Louisa could do the same???
October 31, 2014. Photo by Dottie Millwater Photography
5 | I'm happy to report that our sleep problems we were having with Max over the past month and a half are starting to ease up a bit. I still have to sit in his room until he falls asleep (otherwise he won't stay in his bed), and he sleeps with his door partially open. If we wakes in the middle of the night (still happening, I think more due to nightmares than separation anxiety these days), I am usually able to get him back in bed and tell him he can sleep with the door wiiiiiide open, which comforts him enough to help him fall back asleep until his
OK to Wake! clock
glows green (it's set to glow at 7 AM). It took about a week for him to understand the concept of this AMAZING clock, and he doesn't come out of his room in the morning until it glows; however, it doesn't help with night wakings.
It's definitely been an adjustment waking up to Max standing next to my bed, but it's much better than him screaming from his room! He's very quiet about coming to our room in the morning: he tiptoes in, then stands by my side of the bed to see if I'll notice he's there. If I don't, after a few minutes he'll quietly tap me and say, "Mom, clock green!" It's so cute! Now if I could just get in the habit of waking by 6 or 6:30 to get my shower in, we'll be in great shape!
Other great sleep news: Louisa is regularly sleeping in 6-7 hour stretches now! I love that baby-child.
As I mentioned, I've been greatly enjoying this quiet, normal week. I've also been going through the kids' closets and dressers and boxing up out-of-season/too-small clothes. It's so crazy to think that NONE of Max's shorts I boxed up will fit him next summer. His size 2T pajamas are already too snug and we've had to graduate to 3T! His 2T t-shirts won't last much longer, either. Stop growing!
Hope you all have a spooktacular Halloween weekend!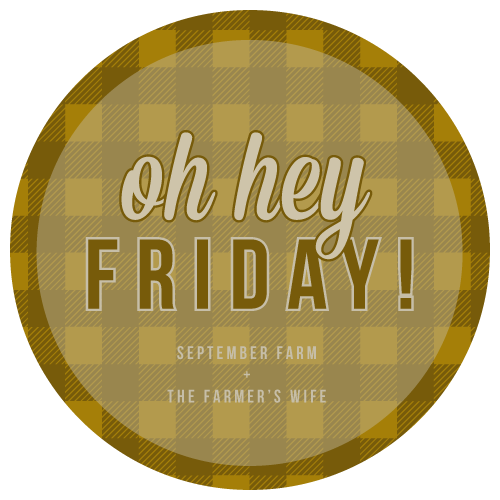 Linking up with