Do you have a Costco membership? My mom was always a Sam's Club gal when I was growing up, but since marrying into Victor's family, Costco has become my preferred big-box, bulk-buys store. At first, I was only so-so about the entire experience. It's actually quite stressful to go to Costco around these parts: it's always crazy busy and parking is a nightmare. And if you want to make a return anytime between December and February, plan on waiting in a line at least 20 people deep. Now that I'm a stay at home mommy, I can hit up Costco during the week instead of on the weekend, so that helps dial down the crazy.
Costco is great for many things, and if you have lots of storage space, you could stock up on everything from Ziploc bags to dishwasher detergent and be set for months or even years (I'm still working through the bulk pack of Scrubbing Bubbles we bought a couple of years ago). While I get a lot of stuff at Costco, I have a few favorite items that I wouldn't consider getting anywhere else, either due to the quality of the item or the price, or both. I'm linking up with Karli at
September Farm
today for Ten on Tuesday to share some things I will only buy at Costco.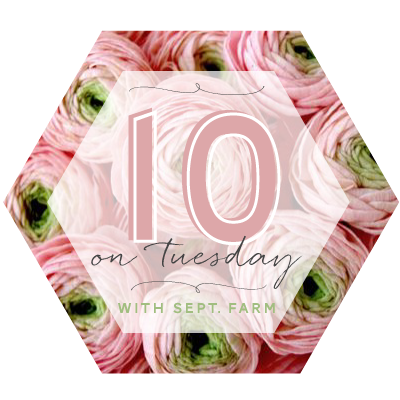 10 items I love to buy at Costco
(and yes, I truly
love
buying these things at Costco)
1 |
Organic milk. Max drinks a good amount of whole milk every day. We're going through a gallon every couple of days over here, so getting it in bulk--and at a good price--is thrilling.
2 |
Sweet Kale Salad. I'm not a big salad gal, but THIS, this is amazeballs. It's full of good-for-you greens, and it's shredded, which I think makes it more appealing to me since it's not overwhelming on the greens taste. It also comes with roasted pumpkin seeds, dried cranberries and a scrumptious poppyseed dressing. This is sold in some grocery stores, as well, but the big family size bag at Costco is where it's at.
3 |
Fish sticks. These are the best fish sticks that I've found. Full of fish meat and lightly breaded. And they're so yummy. Max loves them...and so do we!
4 |
Dog food. You can't beat the price of the dog food, especially for the size of the bag you get. We used to feed Kenny Beneful, but years ago we switched to a Kirkland brand with healthy ingredients. Kenny loves it and a bag lasts us several months.
5 |
Vitamins. Can't beat the price on these here. I've gotten my prenatal vitamins at Costco for both pregnancies. And after originally purchasing my calcium supplements at Target, I recently found them at Costco, and I got two containers for less than the price of one at Target.
6 |
Protein powder. We used to buy whey protein, but I recently purchased this stuff and I love it so much more. One scoop has two servings of greens and 20 grams of plant-based protein. I use it in a breakfast smoothie a couple of days a week and it keeps me full till lunch.
7 |
Baby things. When Max was on formula for a month and a half, I would buy it at Costco: 45% more than what they sell at Target or the grocery store for the same price. I also get Diaper Genie liner refills there in a 4 pack (we have 2 Genies at our house, one upstairs and one downstairs). If we were a Huggies family, we'd probably also buy our diapers there (we recently switched him to Huggies Overnights for bedtime since he was always peeing through his Pampers every night, but they don't sell these at Costco). They also have some cute Carter's clothes there, as well, but they're typically not much cheaper than at Carter's or Target, but if I'm already at Costco, it's easier to buy them there.
8 |
Undies and socks. I love these underpants. I wear them every day. They're soft, comfy, and cute. Plus they're about $10 for a 6-pack, so of course I have a bajillion. Also, these K. Bell socks are my faves, so fun and soft. Max loves the bright colors and helps me pick out my socks each day.
9 |
Chicken broth. This is just a kitchen staple that you should always have on hand, and they sell 12 cans of Swanson's low-sodium broth for a great price, plus it's all wrapped up into one case, so it's easy to transport. When I make quinoa, I make it in broth instead of water to give it some extra flavor. If I want to whip up a soup, I've already got the base. It doesn't take long before it's time to buy another case of broth.
10 |
Furniture. A good amount of our house is furnished with Costco furniture. They have some really nice, amazing-quality pieces, and their online selection is pretty great. Our family room couches are from Costco, as well as our dining room table. We have two bedroom sets from here. We love the mattresses they sell. And we just ordered a new kitchen table from their website after months of searching. Bonus: often times when you order from the website, you receive white glove delivery...AND they assemble it for you in your house! You can't beat it!
What do you love to buy at Costco?